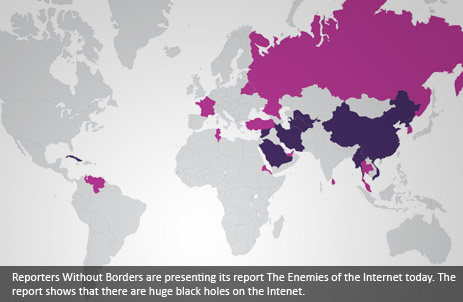 Reporters Without Borders (RSF) just released an updated version of its publication The Enemies of the Internet (1.7 Mb PDF) today. The report, released annually, attempts to summarize the current situation and report on practices if censorship, arrests and other means to keep the Internet behind lock and key.
This years report has some interesting changes from previous years. Tunisia and Egypt have been removed from the list of enemies of the Internet following the fall of their governments. These countries nonetheless remain under surveillance, as does Libya. The gains of these revolutions must be consolidated and the new freedoms must be guaranteed.
RSF have also placed three democracies – Australia, South Korea and France – under surveillance because of various measures they have taken that could have negative consequences for online free expression and Internet access.
The introduction of the report is an excellent overview from the last year and should be required reading for anyone with and interest in the field.
(Disclosure: I'm a member of the board of the Swedish section of Reporters Without Borders.)