More pictures of Iranian Censorship
I brought some magazines with me when I went back to Sweden from Iran. The thing was that I was very surprised to begin with when I found copies of The Economist in the window of a newsstand near the Tehran University in Enqelab Square.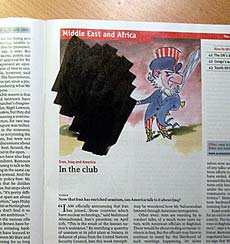 Since hotel rooms are boring, I picked up a couple of magazines – they even carried older issues. Went back and started reading. It was not until the second time I saw one of the black slabs of ink that I realized that the magazines were indeed censored! This sparked my interest, and I went back several times in the following days, and basically cleared out the store of foreign magazines. (It turned out that the shop owner had some uncensored issues of fashion magazines under the counter – which he very subtly offered me to purchase – and when I said that I'd rather buy the censored ones his jaw fell to the floor.)
I bought three different magazines, just one of some and many of others: The Economist, National Geographic and Wallpaper. I guess they were chosen primarily since I normally buy them.
Anyway, I posted one of the pictures here a couple of month ago, and I've finally found time (ehh, not really, but I did it anyway) to do it right. One thing I can't do, it to provide you with the originals for comparison, and some things – particularly the cartoons – are hard to say anything about. If you have the uncensored issues of the magazines below, and feel like helping out, take a picture of them (or scan them) and mail them to me and I?ll post them.
Please note that the images can be clicked if you want a higher res image. (To get a copy of the original images: mail me.)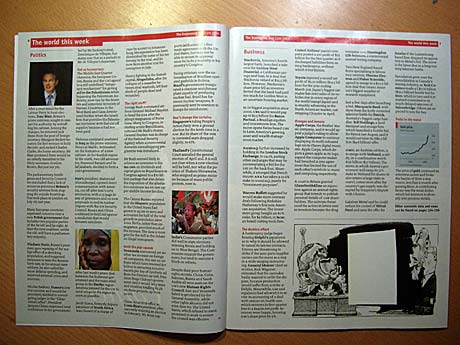 The Economist, May 13 2006, pp6-7. This is a cartoon of George Bush and some unmentionable person. My guess is Ahmadinejad or Khamenei, since it apparently was so important to cover it up. They used both ink and a white sticker.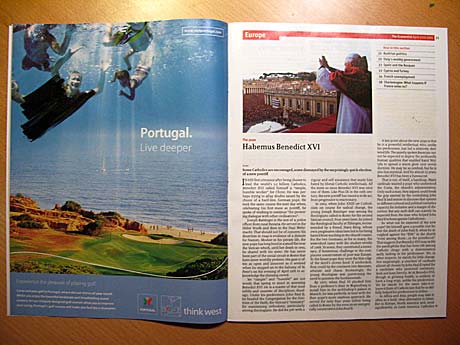 The Economist, Apr 23 2005, pp30-31. Advertisement for Portugal. Apparently featuring a woman in swimwear.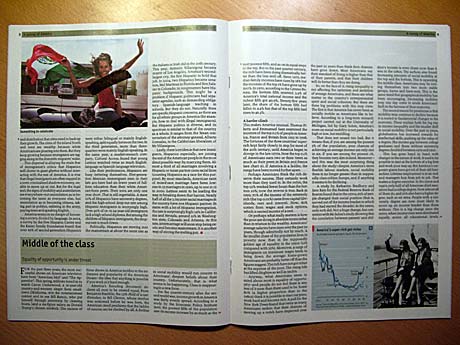 The Economist, Jul 16 2005, Survey of America pp8-9. This girl shows too much skin, and her shoulders were covered.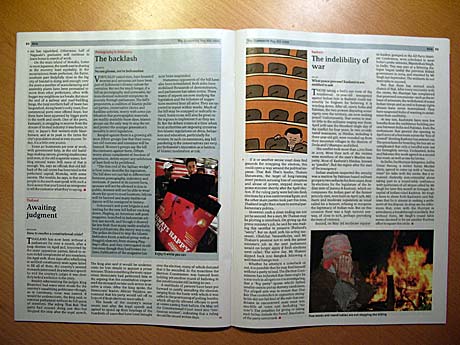 The Economist, May 6 2006, pp62-63. The Economist reports that Indonesia is creating new laws to get tough on pornography. Here, the word Playboy has been censored, as well as the backs of the magazine read by the people in the background.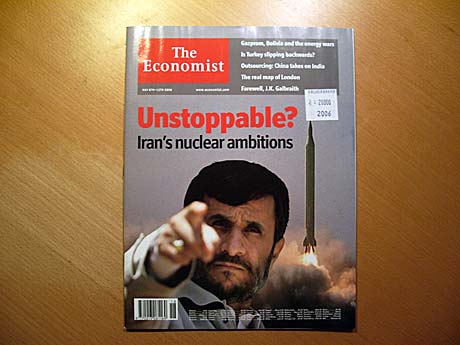 The Economist, May 6 2006, Cover. The cover of the magazine that also had the previous picture in it. This cover is not censored, but included here to point out that the entire magazine is full of articles that are extremely critical to the regime. Leaders and op-ed's that say that the Iranian regime is outright dangerous. Yet, that is not censored. Not one word of it. It's all there. But the word "Playboy" is a no-go.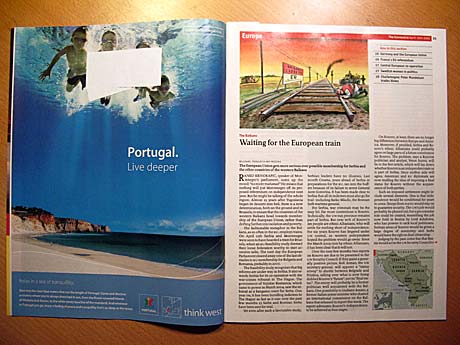 The Economist, Apr 16 2005, pp24-25. "Damn those Portuguese! They should know how to cover themselves up. Let's do it for them!"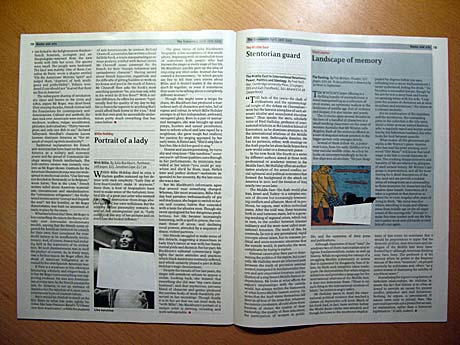 The Economist, Apr 16 2005, pp78-79. Two censored images in the Books and Arts section. One of Billie Holiday's shoulders and the other is some kind of drawing. I'm very curious as to what lies beneath here. It must be of considerable danger, considering the dual use of ink and sticker.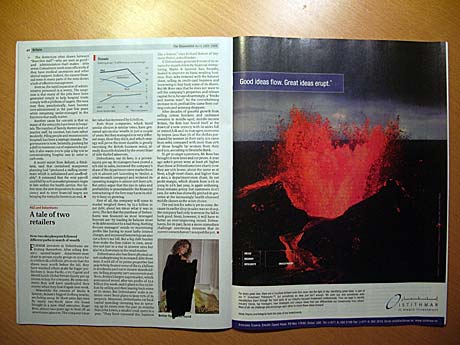 The Economist, Apr 29 2006, pp42-43. Article about the shopping mall Debenhams, illustrated with a scantly clad woman.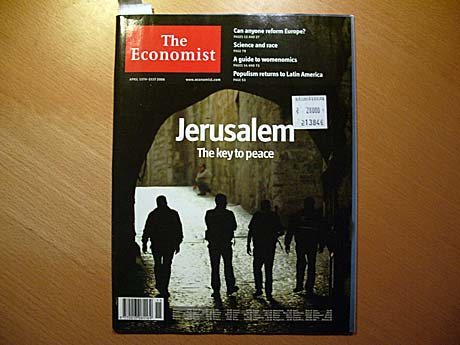 The Economist, Apr 15 2006, Cover. This is an issue focusing on the conflict in Israel. Nothing censored on the cover – I just wanted to frame the coming three spreads.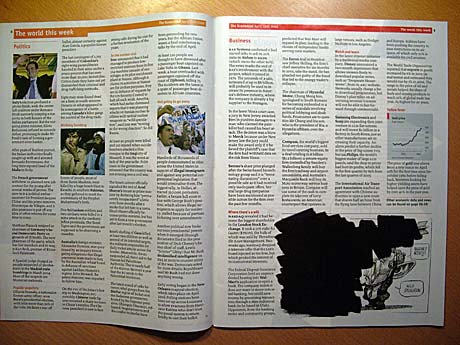 The Economist, Apr 15 2006, pp8-9. A cartoon again: probably Ahmadinejad.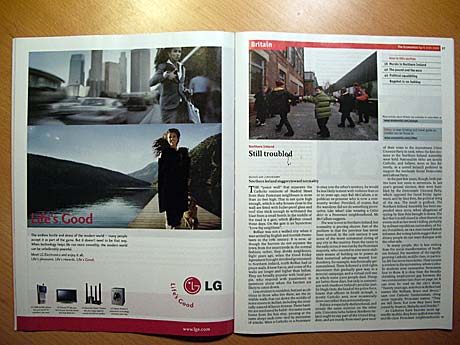 The Economist, Apr 15 2006, pp26-27. Advertisement for LG. The woman is wearing a jogging dress.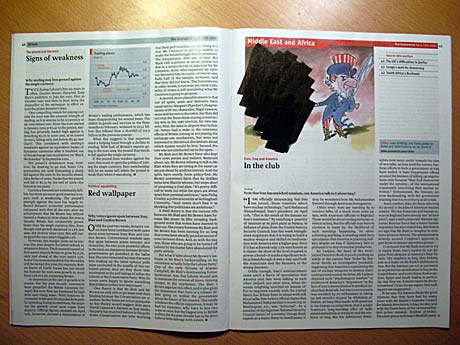 The Economist, Apr 15 2006, pp40-41. Cartoon of Uncle Sam with a sword. My best guess is that his opponent in this picture is Khamenei – probably also equipped with a sword.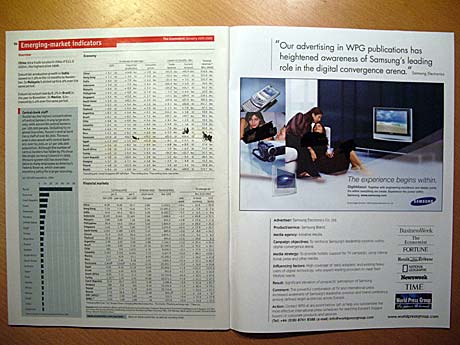 The Economist, Jan 15 2005, pp94-95. Samsung advertisement, with the woman wearing a tank top.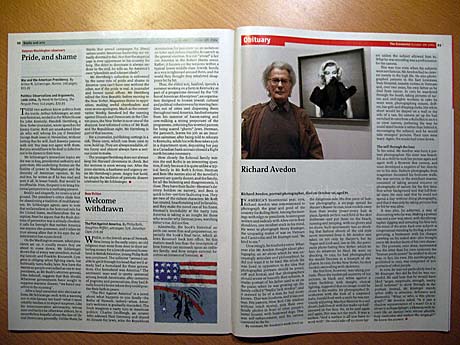 The Economist, Oct 9 2004, pp88-89. Marilyn Monroe is in the photo behind Richard Avedon. The article is an obituary for the famous portrait photographer.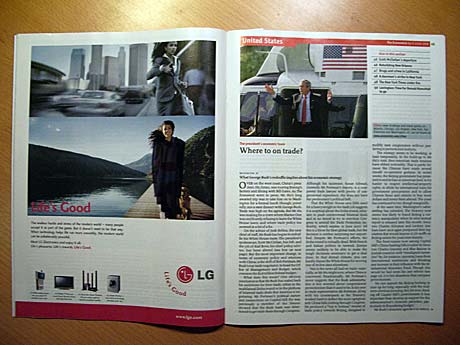 The Economist, Apr 22 2006, pp44-45. Advertisement for LG. The woman is wearing a jogging dress running clothes.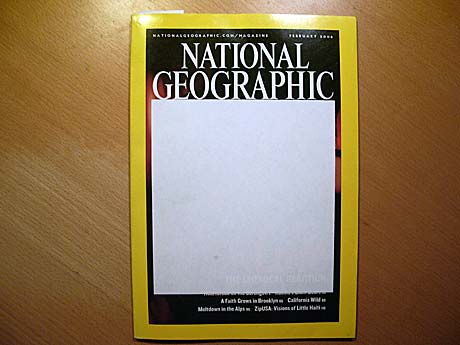 National Geographic, Feb 2006, Cover. This issue of NG is about this phenomenon called love. The cover is a photo of a couple in embrace, not really kissing, but almost. On the uncensored cover, that is.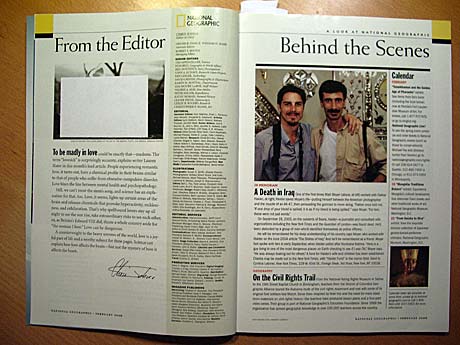 National Geographic, Feb 2006, Editor's section. Under the image, the text says "Marilyn Monroe and Clark Gable on the set of The Misfits." Apparently they were up to no good.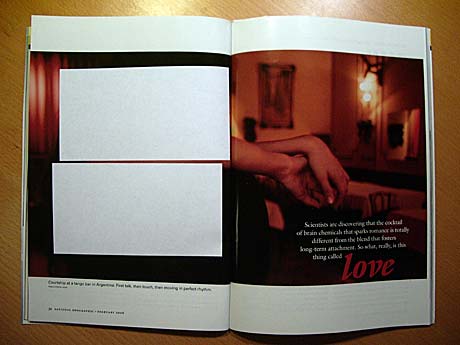 National Geographic, Feb 2006, pp32-33. The same picture that was on the cover – only slightly larger.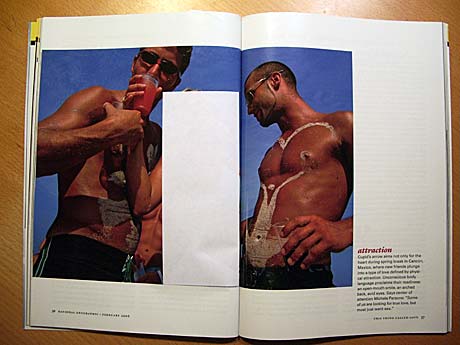 National Geographic, Feb 2006, pp36-37. Another spread in the feature article about love. The woman – probably wearing a bikini – is censored, but the guys are not.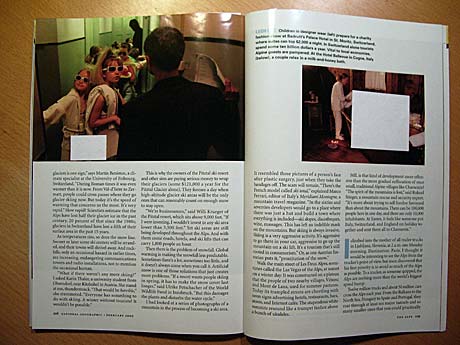 National Geographic, Feb 2006, pp108-109. These images are part of a story on life in the Alps, where the NG photographers attend a teen charity fashion show.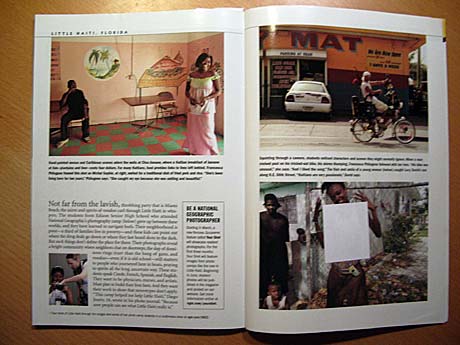 National Geographic, Feb 2006, pp120-121. A girl in Florida wearing too little. Tank top? Bikini?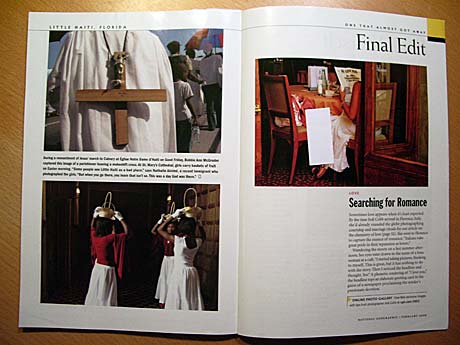 National Geographic, Feb 2006, pp122-123. Continuing the love-story, a knee is casually exposed. And swiftly removed.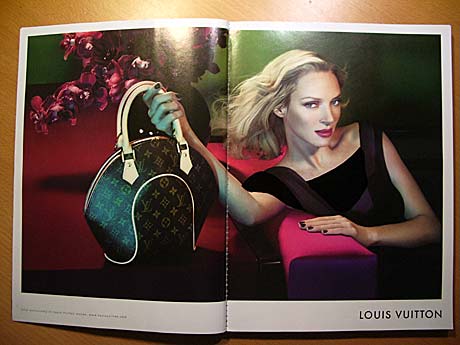 Wallpaper, Sept 2005. Louis Vitton advertisement. They redesigned the dress. The black is not supposed to be there.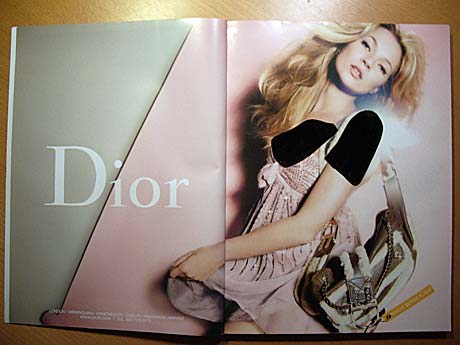 Wallpaper, Sept 2005. Dior advertisement.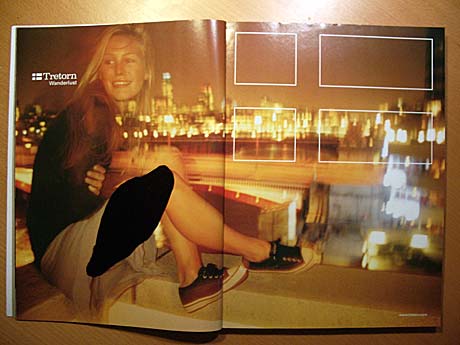 Wallpaper, Sept 2005. Tretorn advertisement.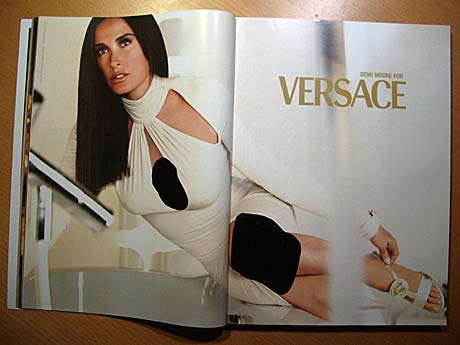 Wallpaper, Sept 2005. Versace advertisement.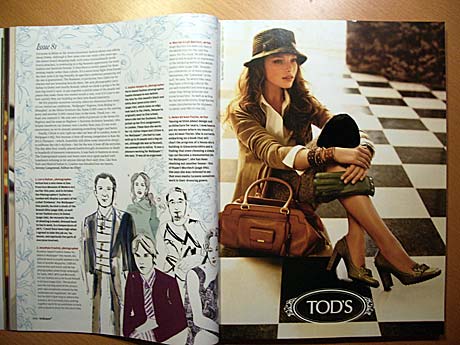 Wallpaper, Sept 2005. Tod's advertisement. Mind the knee.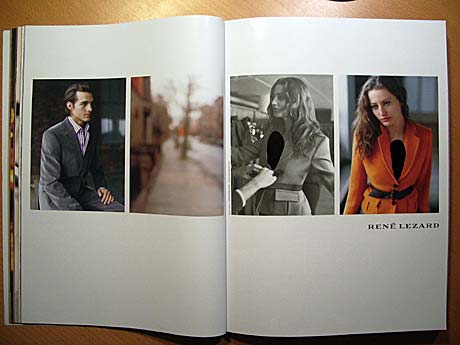 Wallpaper, Sept 2005. René Lezard advertisement.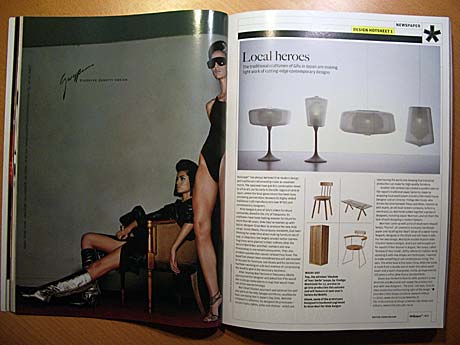 Wallpaper, Sept 2005. This one is interesting, because it seems to be a slipup. This bathing suit should have been censored, I would think?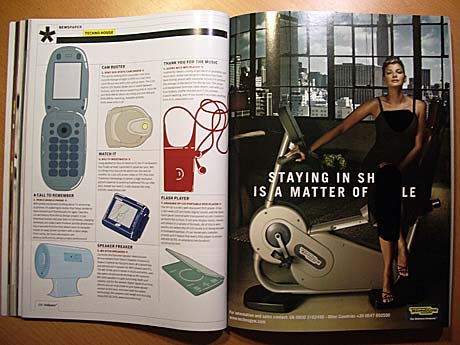 Wallpaper, Sept 2005. Technogym advertisement.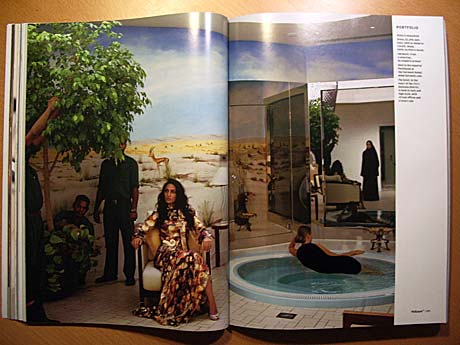 Wallpaper, Sept 2005. Fashion piece. Considering the publication, the woman in the tub, might be naked. Ironically, the setting is the Middle-East, thus the women in chador in the background.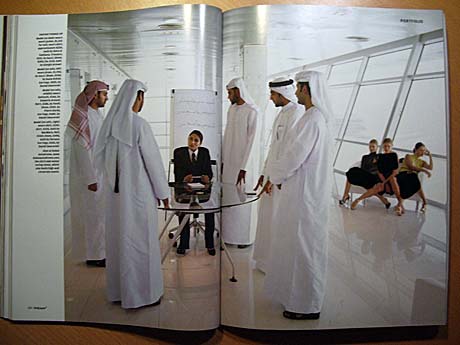 Wallpaper, Sept 2005. Fashion piece cont'd. Look at the women on the right.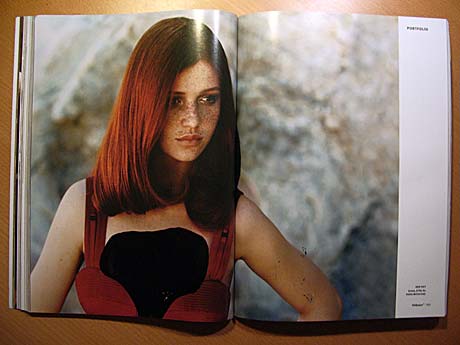 Wallpaper, Sept 2005. Another fashion piece.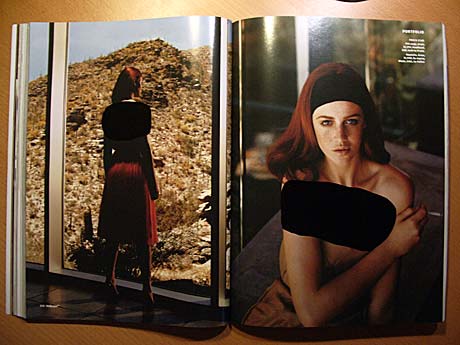 Wallpaper, Sept 2005. Another fashion piece cont'd.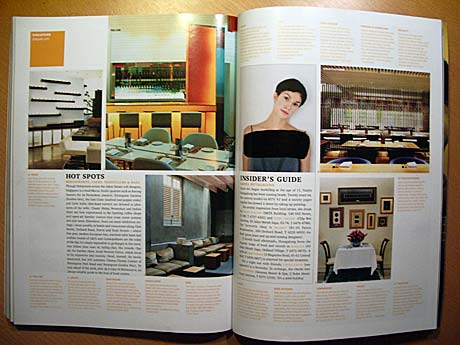 Wallpaper, Sept 2005. This girl had a tank top that was too revealing it seems.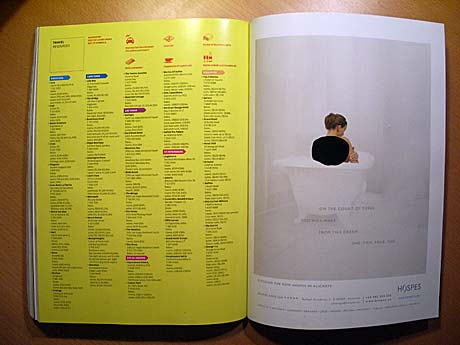 Wallpaper, Sept 2005. Hospes Hotels advertisement.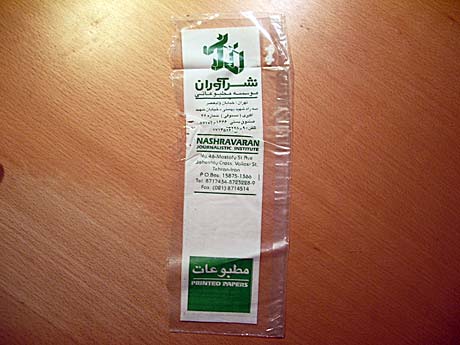 This is part of the wrapping that the magazines came in. Nashravaran Journalistic Institute is the organization (agency?) that handles that censorship. They also stamp all magazines with a stamp upon inspection. It's mind-boggling to think of the people whose work it is to sit there with a giant felt-tip pen and cover up skin all day long.
* * *
Practices of Iranian Censorship
One of the more interesting things with all this, I think, is how words are left uncensored, but images are not. The only word that was explicitly censored was "Playboy", in spite of the articles being full of things that must be considered western propaganda.
From a westerner's point-of-view, the censorship can be described in terms of political and/or sexual. The political censorship is the cartoons of the religious and worldly leaders, and the sexual being primarily the female body and some of its attributes. It's important, however, to remember that women are not censored to the standard that is expected in the real world: in the Iranian society the hair is supposed to be veiled from a strangers gaze – in these images its left untouched and visible. Thus, it can be argued that there is a degree of tolerance that goes beyond what is normally considered acceptable and that censors target the Iranian equivalent of hard-core pornography.
The Iranian censorship is better than other forms of censorship, in that it's done in the open. The black ink is there for all to see. No pages that "disappeared", but the evidence of interference is there. That way, Iranians at least know that they're missing out and can act accordingly.
Iranian Censorship in Relation to the West
The images of censorship above should be considered both in relation to other repressive regimes, but also on the practices in western newspapers. It's tempting to just come to the conclusion that they are not free – while "we" are.
I'd like to question this, just for the fun of it. For example, National Geographic often shows dual standards in the way it portrays women from different cultures. While they would never print a full-page picture of a topless 19 year-old Californian girl, they have no problems doing to with a native African woman. This practice has been called colonial and is, in a way, also censorship – although not made with black ink.
My point is not to defend Iranian censorship in any way. But we, as westerners, should also be aware that to some extent all societies censor to defend what they consider being the outer limits of decency. Another example is my own country. Sweden is no different – here politicians are often arguing that measures should be taken to "reduce the sexualization of the public sphere", meaning that laws should be passed to put clothes on women in advertisements. I ask myself, how is that different?
* * *
UPDATE (OCT 21):
On a Brazilian site someone has been so helpful as to find the originals for some of the advertisements and present them side-by-side in a nice flip-book kind of way.