Iran
09:05, November 21, 2006
I realized that most days, on this blog, all I talk talk about is the bad stuff that is happening in Iran: an endless stream of posts about filtering, imprisonment and repression. In this post I would like to show you the other side. I'm not a photographer (and I will not quit my day job) but please take a look at this attempt to a photo essay.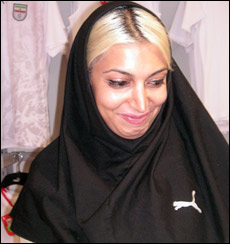 Iran is so much more than what you hear on the news and, quite honestly, the country took me by storm. A endlessly rich culture and tolerant and curious people, living closer to us than Fox News would have us believe. It's the home of millions of people and carries with it an ancient culture that is both beautiful and profound. The real Iran!
Unfortunately, due to the harsh realities of the Iranian society, the most important thing is missing from the pictures: the wonderful people I met and spent time with, people whose hospitality and warmth towards me as a stranger was incomprehensible then and even more surreal now. For their protection, they cannot be associated with me – and it hurts me not to be able to give them proper credit.
Some of the pictures, when stated, are taken by Robert Kautsky, a friend and media scholar who joined me in Iran for a week – and whose talents with photography far exceeds mine. (A click on the images brings you a somewhat higher resolution version. Contact me if you like the full-blown thing!)
Everyday Life in Urban Iran
In no attempt to capture a typical day-in-the-life of an Iranian, this is a few examples of the contemporary life in Iran. The urban areas of the bigger cities are indeed very "modern" (I hate that word because it implies that anything that is not modern (i. e. western) is unmodern (i. e. less developed on some absolute scale) but I couldn't think of anything better) and when you're inside one of the newer malls in Tehran, you could as well be in any big city anywhere in the world.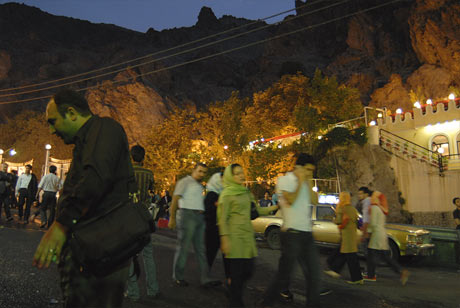 Coming down from Darband and as the sun sets the strollers go back home and others arrive to eat some dinner at one of the excellent restaurants further up. (Photo by Robert Kautsky)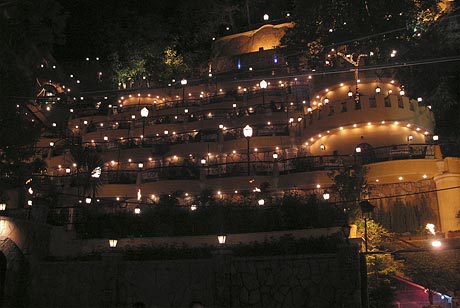 My friends took me up to the mountains up north of Tehran, and after a short hike we came to a completely surreal place with restaurants. This was one of my first days, and I never really expected to find Las Vegas in the Tehrani mountains. Anyway, the food was excellent and a really memorable night. Google Earth Placemark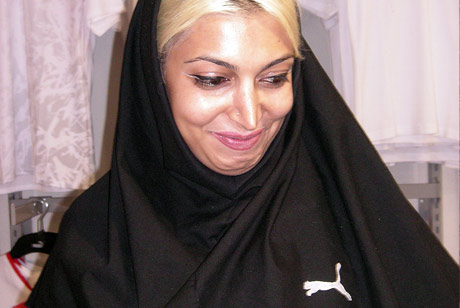 I saw this girl working in a sports clothing store in northern Tehran and became intrigued as to the logo on her wimple. As it turned out – contrary to what I thought – Puma did not make wimples, but the staff were required to wear them as part of their work uniform. Being model employees she and another girl decided to embroid the logotype themselves. She offered to – free of charge – make me one if I returned with a plain wimple (although I think she thought I was mentally ill when I told her I was bringing a wimple with me back home to Sweden as a souvenir for my girlfriend). I think it's a nice shot though, as it clearly shows the dichotomy of two competing cultures. The Persian and the gharbzadegi. Bleached hair, somewhat excessive make-up and a western logotype clearly visible on an ancient religious symbol for female modesty. How's that for globalization?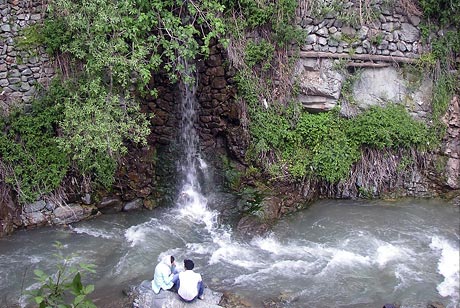 Dating Iran style. A boy and a girl sitting by the winding river, enjoying their quite conversation. The mountains felt like a haven of sorts, were once in a while you can even see women without scarves! Here people come to relax and mingle while enjoying the fresh air away from the smell of exhaust from a few hundred thousand Paykans.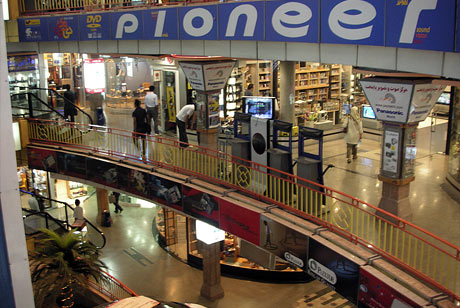 Being a total geek I couldn't keep out of this place. The electronics market. A big, four storey building with just computers and other fun stuff. Prices were a little bit lower than back home, but not enough to make be put on my spenders pants. If pirated software and DVDs is your thing – this is your place. And when you get hungry, drop by to the Eskan mall across the street and have a Beef Stroganoff. (If you miss the flavors from home, don't miss the Jaam-e-Jam food court, a few hundred meters up at the corner of Valiasr Ave and Taheri Street) Google Earth Placemark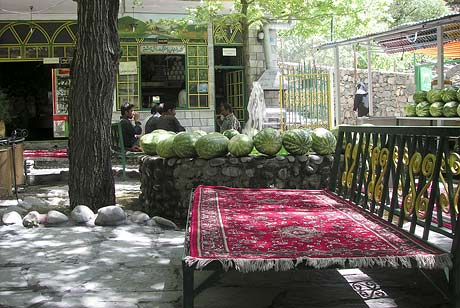 After walking for long enough in the trails of Darakeh, stop by one of these restaurants for dizi and a cold drink. Add a qalyan (water pipe) for the quintessential experience. Me, I was mostly wishing for one of those water melons to find its way to my hands, as I had on a black shirt – which proved to be a really stupid thing to wear when mountain climbing in the blazing hot sun! It's a good thing that it's easier to go back down the mountain, than coming up. Google Earth Placemark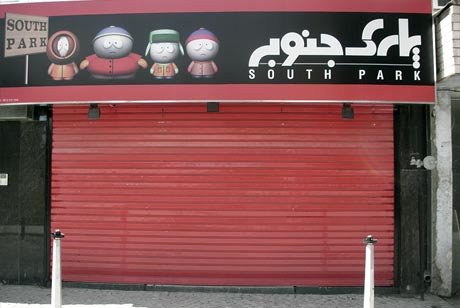 From the this-was-strange-department. I found this place on a backstreet of the Armenian quarters of Esfahan. I have no idea what they do or sell here. Maybe it's a café? Anyway, I think it's a telling sign that our worlds are not as far apart as we tend to think. If we laugh at the same things – how different can we be, right?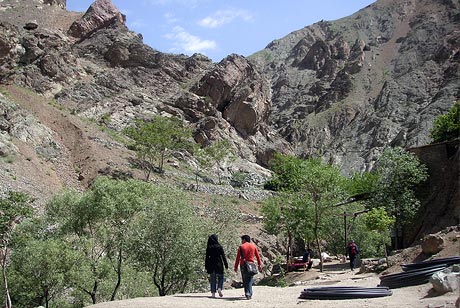 If hiking were an Olympic sport, the Iranians would be the undisputed champions. People of all ages and sexes seemed to be spending a lot of time up in the mountains. And with scenery like this, who can blame them? But I feel for the women in black wimples, and some even in complete chador. It must be excruciatingly warm. (I was told that the original color or the chador was used to be white, but for some reason the color was changed black at some point.)
* * *
Nature:
The nature is extremely diverse, and on one day you can experience everything from snow to desert. Tehran is situated at the foot of mountains, and water from pour down into the city making it lush and green. Tehran itself, being a huge and sprawling city, sure has its problems with pollution and smog, but head north to higher altitudes and you can refuel your lounges with fresh air.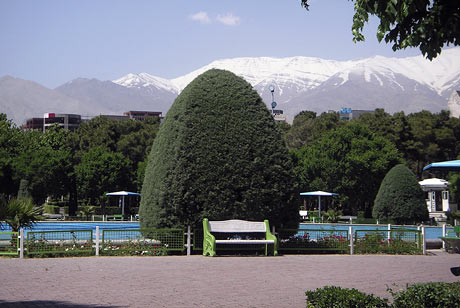 If there's one thing the Iranians really know how to do well, then its building parks. This is Park-e Laleh not far from Tehran University and my hotel. Laleh Park is a big park, in the center of the city, where people go to catch their breath between dodging the cars at busy intersections. It's got a pool in the center, and the majestic mountains of the north are clearly visible in the distance. I used to come here every morning after breakfast to plan my day and gather my thoughts. A wonderful place. As a foreigner though, you should not be surprised if people come up to you and ask if they can talk with you for a while. Be prepared to answer many questions about your country. And bring a pen – because you are going to get advice on what you must see while in Iran. And, whatever you do, don?t miss the Museum of Modern Art at the western edge of the park! Google Earth Placemark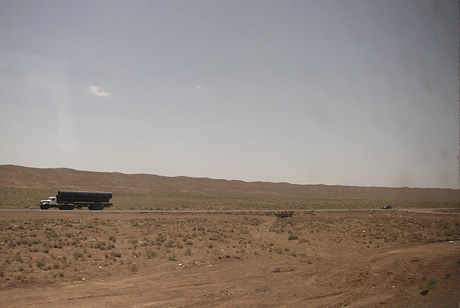 Shot from the bus window on the highway between Tehran to Esfahan. This was more like what I expected Iran to look like – but as you can see in the other pictures, the country really have so much more to offer, in terms of nature.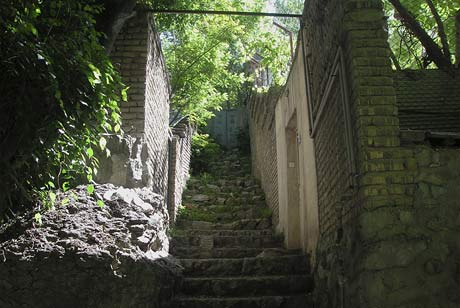 While slowly walking up the winding slopes of the mountain side in Darakeh, I came across this small alley. It looks magical, doesn't it? I wonder what the door leads to. The whole thing looks like a gateway in a fairytale, if you ask me.
* * *
An Ancient Culture
The Persian culture is impressive and awe-inspiring. It can also be a mouthful, and its vast scope makes it difficult to know where to even start when digging into its richness. It's so easy to think that history began with the colonization of the Americas or with the French revolution, but a visit here gives you a profound understanding of how much older the civilizations of the East are, and how insignificant the current world order is – in the grander scheme of things.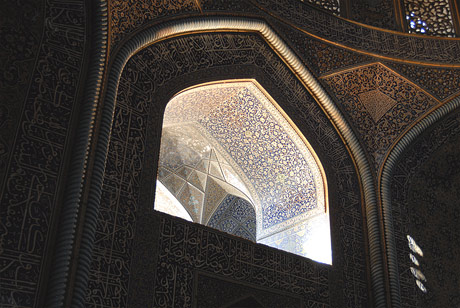 A window in a mosque where the walls are covered with Persian calligraphy. I wish I could read it, but even for someone who can't this is a pinnacle of the Persian tradition. (Photo by Robert Kautsky)

A small bazaar-like market at Khomeini (Shah) Square. Usually, Iran was the complete opposite of your average touristy experience. No people trying to sell you stuff, and lure you in to their stores. But, if there's one place in Iran where there tourists, its here. And where there's a concentration of tourists – there's a market: "Hello, how are you? Come in to my store: free internet! Free cool drinks! Free tea! You don't have to buy, just look at my carpets!" There was even a guy who spoke Swedish. But, it wasn't that bad, considering. They understood a no relatively quickly. And besides – it was fun. (Photo by Robert Kautsky)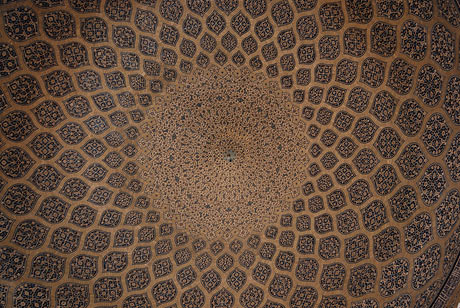 This inside of a dome is made using a technique called Khatam that is an exquisite Persian form of handicraft. is made using Persian mosaic's (Kashi kari). The size and sheer impressiveness of the thing does not come across very well on a photograph, but look at the higher resolution version to get an idea of the fantastic work put in to this. (Photo by Robert Kautsky)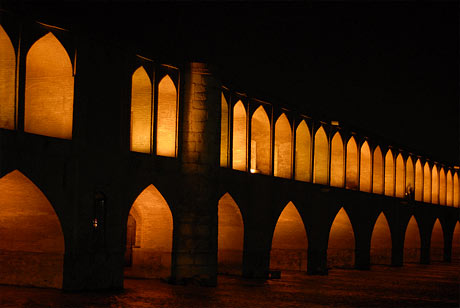 This is a classic shot of one of the bridges of Esfahan. To put things in perspective, it might be interesting to note that this bridge was commissioned in 1602 – some 20 years before the Mayflower sailed west to begin the era of another empire. There used to be a teahouse on the bridge, we were told, but it was closed when we were there. It was a shame, but at least we got a beautiful walk along the many bridges. Esfahan is very beautifully lit at night, as they attempt to emphasize the uniqueness of the city's location on the river. Google Earth Placemark(Photo by Robert Kautsky)
* * *
Please note that the photos by Robert are NOT Creative Commons Attribution licensed like my pictures are. Contact me if you want to use them, and I will pass your request back to Robert. Or, contact his company Azote Images directly. He's a nice guy and I'm confident you can work something out.